Product Description
This comfortable-fitting Fashionable cat harness is easy on your kitty when taking a walk. Designed for Dachshunds - but cats love them too.

Our custom harnesses and coats were originally developed for the hard to fit breeds that are prone to back problems and IVDD. By using our measuring guide below, our custom clothing fit any family pet.

Easy to put on with clasp buckle and professional grade velcro closures. No straps. No rubbing or choking. Transfers pulling pressure to chest area.

PLEASE FOLLOW THE DIAGRAM AT BOTTOM OF PAGE TO MEASURE YOUR CAT PROPERLY.

See our wide selection of Fabric Styles (<< ---- click on link to see fabric options). Once you find the fabric style you want, enter the name of the fabric in the open box above when ordering.

This is similar to our popular Mesh Cat Harness, but made with your choice of designer fabric on top for added style and pizazz. Made with a durable, cool, poly-knit mesh underneath and a fashionable cotton or cotton-poly fabric of your choice on top. All come standard with a quick-release buckle at the chest to ensure your kitty is safe and secure.

Our designer fabric cat harness is custom-made to fit your cat. Don't waste your money on a pre-made harness that is made to fit a variety of different sized cats. Our harness is hand-tailored to fit one cat only - YOURS. Our harness offers the BEST FIT possible for your pet.

OPTIONAL features:
* Safety latch/seat belt handle offers freedom and security while driving in a car
* Reflective tape offers visibility in dark conditions

Veterinary Approved and each is made by hand and sewing machine. We specialize in clothing for the hard-to-fit. We pride ourselves in supplying the best quality and innovative pet apparel.

Product Details:
* Adjustable by 1 1/2" in either direction
* Custom, made-to-order to fit YOUR cat perfectly
* Mesh underlay design is great breathable material to help reduce sweating/wetness
* Built-in D-Ring for easy hook up and go for your leash
* East to put on and take off
* No more choking. All pressure goes to chest area.
* Washable and dryable


** Handmade in the U.S.A. **

Please allow 15 business days to make your custom-made designer fabric harness.

BE SURE TO MEASURE CAREFULLY. THERE IS A $10 ALTERATION FEE FOR HARNESSES RETURNED DUE TO INCORRECT MEASUREMENTS.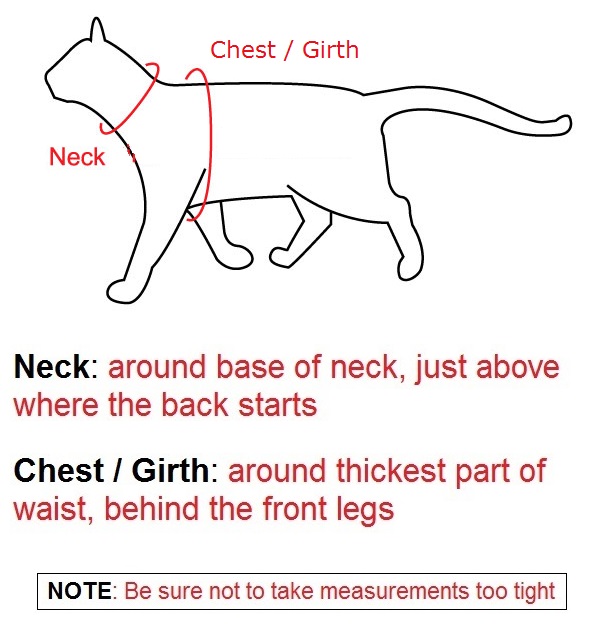 Product Videos
Custom Field
Product Reviews
Luv, luv, luv this! It fits perfect, the first harness that actually fits. I now have one happy fur baby and a very happy fur baby mom.

Thank you so much! This harness is absolutely the best and the quality is A-1