Product Description
Dog Sweater. Designed for Dachshunds - adaptable for all breeds.

This comfortable-fitting hand-knitted dog sweater is lightweight, yet warm enough to keep them comfortable on those chilly days. All sweaters are handmade in crochet in one solid color. Available colors shown in photo 3.

PLEASE FOLLOW THE DIAGRAM AT BOTTOM OF PAGE TO MEASURE PROPERLY AND ENSURE YOUR ITEM IS CORRECTLY MADE.

Our dog sweater is custom-made by hand to fit your Dog. Don't waste your money on pre-made sweaters that are made to fit a variety of different sized dogs. Our sweaters are hand-tailored to fit one dog only - YOURS, offering the BEST FIT possible for your pet.

Sweaters are 100% acrylic which is easy to machine wash and dry.

** Handmade in the U.S.A. **


Please allow 7-10 business days to make your custom-made dog sweater. If you need your custom item(s) faster, they can be RUSHED. These orders are placed in front of the production line and ship within 3 business days. If interested, CLICK HERE TO ORDER

BE SURE TO MEASURE CAREFULLY. THERE IS A $12 ALTERATION FEE FOR MODIFYING A SWEATER RETURNED DUE TO INCORRECT MEASUREMENTS.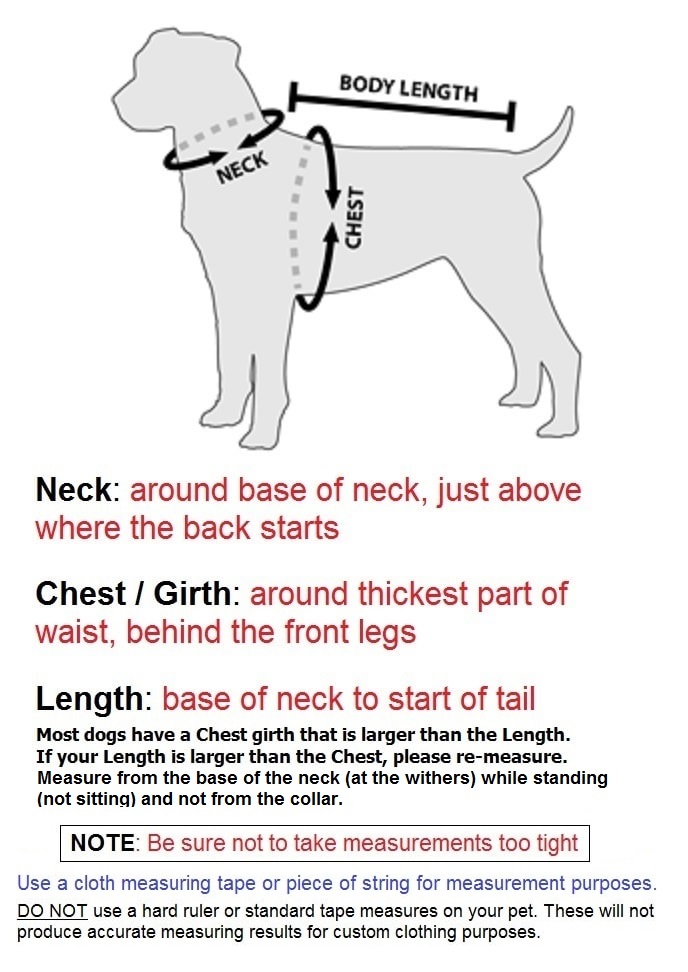 Product Videos
Custom Field
Before Ordering
Use measuring guide at bottom of page to ensure an accurate fit. NOT RECOMMENDED FOR GROWING PUPPIES.
Product Reviews
Sweater was shipped quickly and looks great! The fit is a bit snug however, so I'd recommend adding an inch you're unsure when measuring.

This sweater is gorgeous, hand knit, great color and quality. Came with a lovely personal note from the company and extra yarn. Highly recommend this for dachshunds.

Item is made very well. However the length of sweater is three inches shorter than dimensions given to create. We used the exact measuring instructions from website. I believe the knitting process causes the garment to shrink. Wish I would've added length to my order to compensate. This sweater does not measure true to size

Beautiful sweater. We got the dark green and I love the color.

Excellent material and sewing. Looks great, fits well. Great quality. I will definitely order again.

Its going to work great!

The dog sweater was so cute!! It fit perfectly for our mixed breed dachshund. We were pleased with this product and sweet note that came with the sweater!!

Finally something that fits this pup! I have ordered so many things for her that I had to send back! Thank you so much!

I'm delighted and especially so as the woman who made this reached out to me in advance to confirm the dimensions. Great job!