Product Description
CoverUp™ Water-Resistant Dog Coat. Designed for Dachshunds - adaptable for all breeds.

Our custom harnesses and coats were originally developed for the hard to fit breeds that are prone to back problems and IVDD. By using our measuring guide below, our custom clothing fit any breed.

PLEASE FOLLOW THE DIAGRAM AT BOTTOM OF PAGE TO MEASURE PROPERLY AND ENSURE YOUR ITEM IS CORRECTLY MADE.

See our wide selection of Fabric Colors (<< ---- click on link to see fabric options).

The Water-Resistant CoverUp™ Dog Coat is a fleece and water-resistant pull-over that covers the dog's chest and underside to handle both cold AND wet weather conditions.

The top-layer is a water-resistant nylon fabric to help keep the water out, while the under-layer is a fleece fabric for warmth.

Our water-resistant dog coat is custom made to fit your Dog. Don't waste your money on a pre-made water-resistant coats that are made to fit a variety of different sized Dogs. Our coat is hand-tailored to fit one Dog only - YOURS. Our water-resistant coats offer the BEST FIT possible for your pet.

-- Adjustable by 1 1/2'' in either direction
-- The CoverUp is made from cozy, anti-pill fleece interior covered with water-resistant nylon exterior.
-- The Turtleneck is an extension of the under-layer fleece material that is used. It is not a separate piece. The material is cut slightly longer in the neck area for coverage. Turtlenecks are roughly 2 1/2 inches long.
-- Completely covers neck, breastbone and chest...even deep-chested Doxie's and other breeds.
-- Covers most of the Doxie's underside, leaving enough open room for males.
-- Pulls on easily over Doxie's head.
-- Generous girth strap adjusts for slender to robust size Dogs.
-- Velcro® patch on back of coat holds girth strap in place and prevents coat from slipping or sliding out of place.
-- Machine washable & dryable.

The Water-Resistant CoverUp™ is designed to work with our popular Mesh or Fabric Harness (and other harnesses). Each CoverUp includes a button hole to allow access to a harness D-ring. Harness holes are placed about 3" down from the base of the neck if you are attempting to use an after market harness. These can be adjusted if necessary if advised prior to ordering.

** Handmade in the U.S.A. **

Please allow 15 business days to make your custom-made water-resistant coat. If you need your custom item(s) faster, they can be RUSHED. These orders are placed in front of the production line and ship within 3 business days. If interested, CLICK HERE TO ORDER

BE SURE TO MEASURE CAREFULLY. THERE IS A $12 ALTERATION FEE FOR COATS RETURNED DUE TO INCORRECT MEASUREMENTS.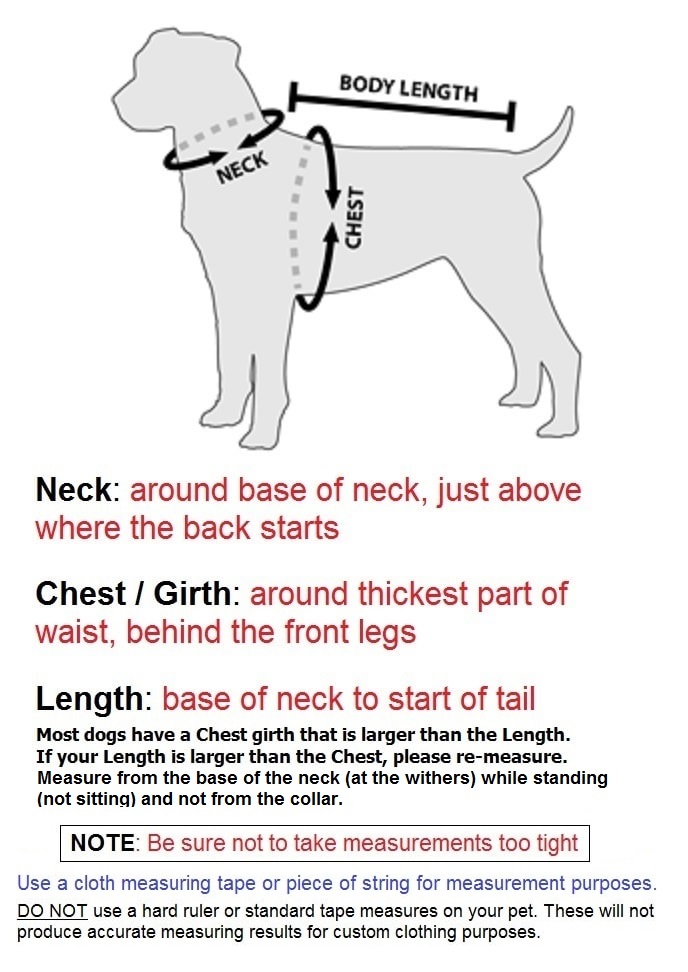 Product Videos
Custom Field
Before Ordering
Use measuring guide at bottom of page to ensure an accurate fit. NOT RECOMMENDED FOR GROWING PUPPIES.
Product Reviews
This is the first coat that fits my dachschund!! I have tried several from the stores, but none fit. This coat is perfect, I was really excited when I tried it on her! Thank you!

The coat took a long time to ship but was worth the wait. Fits perfectly, is well constructed, and looks sharp.

Best coat ever! My dog loves wearing it.

Designed so well with chest adequately covered & placement & quality of velcro is key for keeping it closed with wild play. The fabrics are thick & hold up with washings. After searching all over, this is the only coat that fits my dog well! The customer service is great, too. Worth every penny!

Easy to put on ..love love the collar keeps dog warm Bright color . Hoping leach hole loosens up a little ..going to try putting harness and coat in at same time with ring already thru hole But would recommend and buy again

I recently received this coat and cannot be more pleased. Shadow is a trim, standard Dachshund and it has been quite a challenge getting a well fitting, easy to put on coat for him. This coat couldn't be better and it has already been put to good use in the last few days of cold, rainy weather. It fits perfectly and seems well made.

I love our coat! Trying to find something that will fit our dachshund's frame and keep her warm in the Minnesota tundra sent me straight to petmyweiner.com Now we have a great coat to keep our dachshund warm on her daily walks. Great fit, flexible, warm and waterproof.

We have tried this on Avalanche, our 12 yr. old daschund and it fits him very well - particularly nice to have coverage for his chest and belly, which are so low to the ground. I love the weatherproof outer, but cozy fleece under and at collar. Thank you so much!

It took a long time to ship and is pricey, but an excellent coat!

We previously purchased the collarless cuddler dog coat and the fit is fantastic. This coat, however, is off, despite submitting the same measurements. The back flares out, rather than draping her back and keeping out cold and rain. The Velcro strap that fully closes the coat (sits on top) isn't long enough so half of the other straps top Velcro is exposed, which grabs leaves and dirt and frankly, looks sloppy. My dog is very slim and gained no weight between orders, so I'm not sure why it fits so differently. PetMyWiener.com Reply: We stand behind all of our custom clothing. If it does not fit properly, we will fix it free of charge. Please contact customer service.