Product Description
CoverUp™ Water-Resistant Dog Coat. Designed for Dachshunds - adaptable for all breeds.

Our custom harnesses and coats were originally developed for the hard to fit breeds that are prone to back problems and IVDD. By using our measuring guide below, our custom clothing fit any breed.

PLEASE FOLLOW THE DIAGRAM AT BOTTOM OF PAGE TO MEASURE PROPERLY AND ENSURE YOUR ITEM IS CORRECTLY MADE.

See our wide selection of Fabric Colors (<< ---- click on link to see fabric options).

The Water-Resistant CoverUp™ Dog Coat is a fleece and water-resistant pull-over that covers the dog's chest and underside to handle both cold AND wet weather conditions.

The top-layer is a water-resistant nylon fabric to help keep the water out, while the under-layer is a fleece fabric for warmth.

Our water-resistant dog coat is custom made to fit your Dog. Don't waste your money on a pre-made water-resistant coats that are made to fit a variety of different sized Dogs. Our coat is hand-tailored to fit one Dog only - YOURS. Our water-resistant coats offer the BEST FIT possible for your pet.

-- Adjustable by 1 1/2'' in either direction
-- The CoverUp is made from cozy, anti-pill fleece interior covered with water-resistant nylon exterior.
-- The Turtleneck is an extension of the under-layer fleece material that is used. It is not a separate piece. The material is cut slightly longer in the neck area for coverage. Turtlenecks are roughly 2 1/2 inches long.
-- Completely covers neck, breastbone and chest...even deep-chested Doxie's and other breeds.
-- Covers most of the Doxie's underside, leaving enough open room for males.
-- Pulls on easily over Doxie's head.
-- Generous girth strap adjusts for slender to robust size Dogs.
-- Velcro® patch on back of coat holds girth strap in place and prevents coat from slipping or sliding out of place.
-- Machine washable & dryable.

The Water-Resistant CoverUp™ is designed to work with our popular Mesh or Fabric Harness (and other harnesses). Each CoverUp includes a button hole to allow access to a harness D-ring. Harness holes are placed about 3" down from the base of the neck if you are attempting to use an after market harness. These can be adjusted if necessary if advised prior to ordering.

** Handmade in the U.S.A. **

Please allow 15 business days to make your custom-made water-resistant coat. If you need your custom item(s) faster, they can be RUSHED. These orders are placed in front of the production line and ship within 3 business days. If interested, CLICK HERE TO ORDER

BE SURE TO MEASURE CAREFULLY. THERE IS A $12 ALTERATION FEE FOR COATS RETURNED DUE TO INCORRECT MEASUREMENTS.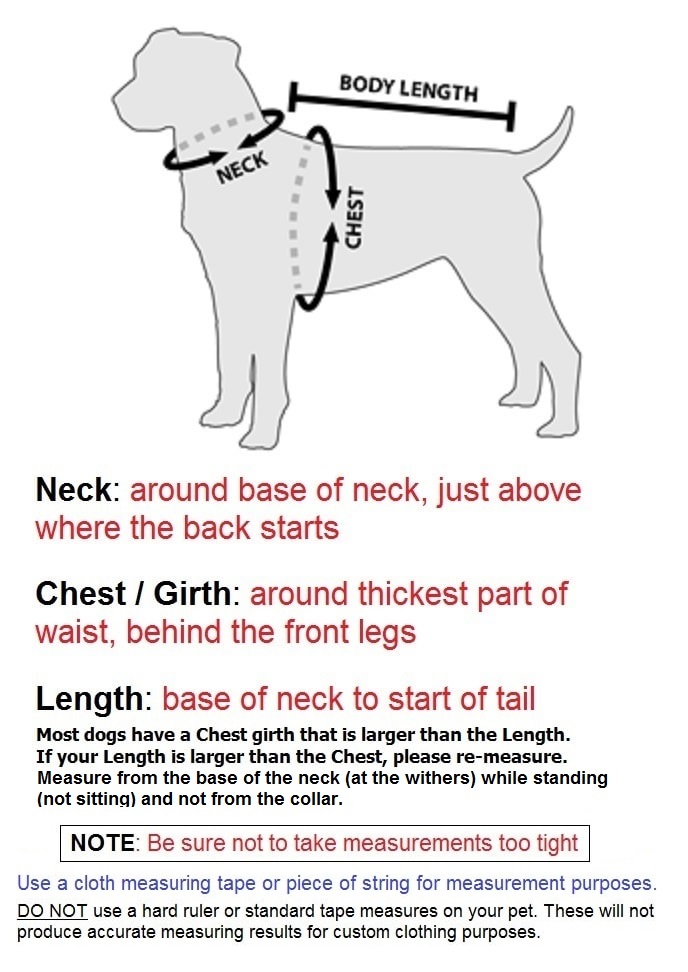 Product Videos
Custom Field
Before Ordering
Use measuring guide at bottom of page to ensure an accurate fit. NOT RECOMMENDED FOR GROWING PUPPIES.
Product Reviews
My dog is quite comfortable and warm in the coat.

I think the product will serve us well for quite some time

Purchased a red and a forest green for my two wiener dogs; they're so well made, fit perfectly, and the outer fabric is water resistent and the lining keeps them warm. They wear harnesses so the buttonhole for the harness to be attached to the leash is perfect.

A coat that fits and stays on!

We've tried some different coats and jackets and none of them fit as well as this one. I love that it's made to fit. Ollie pops his head right in and stands still to get bundled up, so I know he likes it too!

Had this custom for our long haired Dachshund. Did the colors to match her mesh harness from here. She loves it! Easy off and on which is great..no need to fuss with taking her paws in and out of something. Snug fit and looks great. This time I splurged on adding the reflective tape which I'm happy about and wish I did on her harness a few years ago. Made to last. Great quality. Doxie approved.

Had this custom for our long haired Dachshund. Did the colors to match her mesh harness from here. She loves it! Easy off and on which is great..no need to fuss with taking her paws in and out of something. Snug fit and looks great. This time I splurged on adding the reflective tape which I'm happy about and wish I did on her harness a few years ago. Made to last. Great quality. Doxie approved.

This coat is very well made. I especially like the belly wrap since Dachshunds are so low to the ground. The only thing I would change would be to have a thicker liner since winters can be very cold and snowy.

This jacket is just wonderful. Fit perfectly and the quality is incredible. Thank you!!

The Princess' Fabulous Couture Coat

I wish I could add a pic. General Princess Leia LOVES her custom coat that actually covers her little wiggle butt. The Alaskan winter has been extra frigid this year and the General needed a coat that could withstand the elements in this harsh region. It's so well made I expect she'll be wearing it her whole life. I will recommend to anyone. U^ェ^U

Would recommend