Product Description
Collarless CoverUp™ Water-Resistant Dog Coat. Designed for Dachshunds - adaptable for all breeds.

Our custom harnesses and coats were originally developed for the hard to fit breeds that are prone to back problems and IVDD. By using our measuring guide below, our custom clothing fit any breed.

PLEASE FOLLOW THE DIAGRAM AT BOTTOM OF PAGE TO MEASURE PROPERLY AND ENSURE YOUR ITEM IS CORRECTLY MADE.

See our wide selection of Fabric Colors (<< ---- click on link to see fabric options).

Similar to our original CoverUp™ Coat, but without the turtleneck and the harness hole is optional. Ideal for those who prefer to use collars (versus harnesses), or don't want the turtleneck add-on.

The Water-Resistant CoverUp™ Dog Coat is a fleece and water-resistant pull-over that covers the dog's chest and underside to handle both cold AND wet weather conditions.

The top-layer is a water-resistant nylon fabric to help keep the water out, while the under-layer is a fleece fabric for warmth.

Our water-resistant dog coat is custom made to fit your Dog. Don't waste your money on a pre-made water-resistant coats that are made to fit a variety of different sized Dogs. Our coat is hand-tailored to fit one Dog only - YOURS. Our water-resistant coats offer the BEST FIT possible for your pet.

-- Adjustable by 1 1/2" in either direction
-- The CoverUp is made from cozy, anti-pill fleece interior covered with water-resistant nylon exterior.
-- Completely covers the breastbone and chest...even deep-chested Doxie's and other breeds.
-- Covers most of the underside, leaving enough open for males.
-- Pulls on easily over the head.
-- Generous girth strap adjusts for slender to robust size Dogs.
-- Velcro® patch on back of coat holds girth strap in place and prevents coat from slipping or sliding out of place.
-- Machine washable & dryable.

Optional harness hole is available to allow the Collarless CoverUp™ to work with our Mesh or Fabric Harness (and other harnesses) by allowing access to a harnesses D-ring. Harness holes are placed about 3" down from the base of the neck if you are attempting to use an after market harness. These can be adjusted if necessary if advised prior to ordering.

** Handmade in the U.S.A. **

Please allow 15 business days to make your custom-made water-resistant dog coat. If you need your custom item(s) faster, they can be RUSHED. These orders are placed in front of the production line and ship within 3 business days. If interested, CLICK HERE TO ORDER

BE SURE TO MEASURE CAREFULLY. THERE IS A $12 ALTERATION FEE FOR COATS RETURNED DUE TO INCORRECT MEASUREMENTS.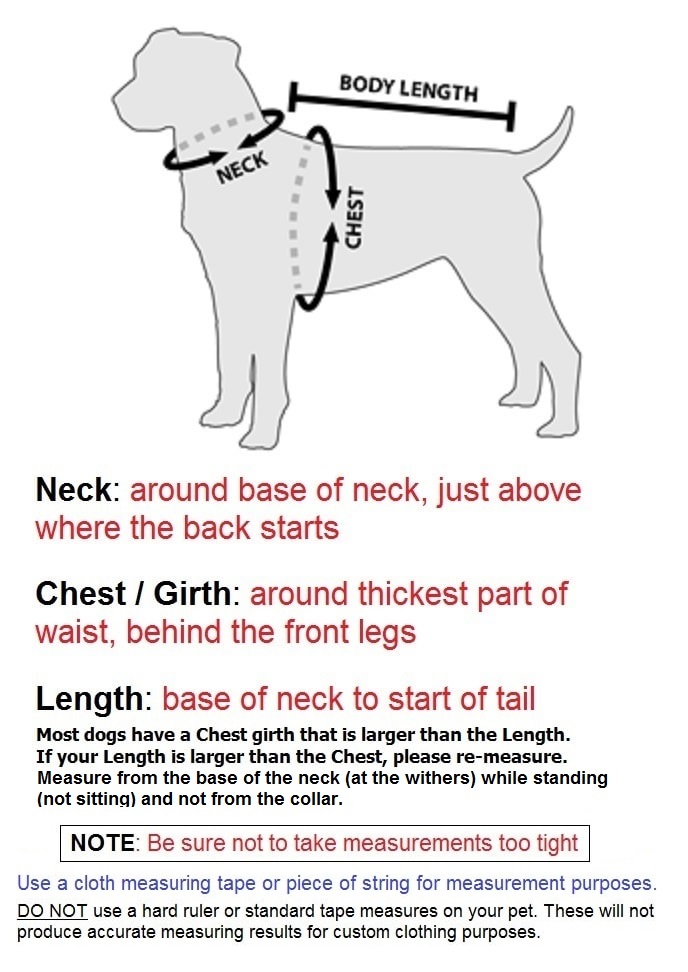 Product Videos
Custom Field
Before Ordering
Use measuring guide at bottom of page to ensure an accurate fit. NOT RECOMMENDED FOR GROWING PUPPIES.
Product Reviews
the price is worth the product

After searching for a while for a coat that would fit my mini dachshund I decided to give this jacket a try and it was worth it. The jacket fits great and keeps my 15lb guy very comfortable.

love the coverup for my little girl

We have been shopping for a jacket for my mixed breed (Maltese/Yorkie). She is a little girl and she is an odd shape (compared to other breeds that I have owned). With a longish torso, skinny neck and not very deep chest, the other jackets we bought, just slid around on her. This jacket fits great and it is easy to put on and take off. I appreciate the option to send measurements for just the right fit and select colors.

Collarless Coverup is great for our dachshund

This collarless cover-up is high quality and easy to put on and take off. The water-resistant outer fabric really helps keep our dachshund's belly warmer and dryer in the snow, and the fleece lining and custom fit are like a cozy hug. Highly recommend.

collarless coverup rain coat

nice coat however I'm only giving it 4 stars as the neck is a bit snug. I will have to cut it to avoid choking my dog even though we provided our dog's measurements for the coat to be made.

This is my first order but it won't be my last. This dog coat for my little Baron was absolutely perfect! We have tried at least six different kinds of coats but nothing would stay put on his body because it just didn't fit right until this coat. It was made from the measurements that I sent in and the colors I had to choose from were great! This purchase definitely exceeded my expectations!!!

I LOVE LOVE this coat. It is well worth the extra money for this coat. It is as well made as my winter coat. It will keep my little Ru warm and dry. The reflective edging will help me keep an eye on him in the dark!! This is a great coat!!

COLLARLESS COVERUP WR DOG COAT

Great quality, fit, and customer service

I have 3 dachshunds and finding coats to fit their long bodies are very difficult. These are great quality and fit all 3. I made sure to measure each dog and take their measurements before ordering. The coats seem like they will do the job and help keep them a little bit dryer because their chests always get soaked when they go outside especially here in Washington state. They look so cute in their little coats.

collarless coverup WR dog coat

Perfect in all regards!