Product Description
This comfortable-fitting Fashionable dog harness is easy on your pet when taking a walk. Designed for Dachshunds - adaptable for all breeds.

Our custom harnesses and coats were originally developed for the hard to fit breeds that are prone to back problems and IVDD. By using our measuring guide below, our custom clothing fit any breed.

Easy to put on with clasp buckle and professional grade velcro closures. No straps. No rubbing or choking. Transfers pulling pressure to chest area.

PLEASE FOLLOW THE DIAGRAM AT BOTTOM OF PAGE TO MEASURE YOUR DOG PROPERLY.

See our wide selection of Fabric Styles (<< ---- click on link to see fabric options). Once you find the fabric style you want, enter the name of the fabric in the open box above when ordering.

This is similar to our popular Mesh Harness, but made with your choice of designer fabric on top for added style and pizazz. Made with a durable, cool, poly-knit mesh underneath and a fashionable cotton or cotton-poly fabric of your choice on top. All come standard with a quick-release buckle at the chest to ensure your pet is safe and secure.

Our designer fabric dog harness is custom-made to fit your dog. Don't waste your money on a pre-made harness that is made to fit a variety of different sized dogs. Our harness is hand-tailored to fit one dog only - YOURS. Our harness offers the BEST FIT possible for your pet.

OPTIONAL features:
* Safety latch/seat belt handle offers freedom and security while driving in a car (see photo).
* Reflective tape offers visibility in dark conditions

Veterinary Approved and each is made by hand and sewing machine. We specialize in clothing for the hard-to-fit breeds. We pride ourselves in supplying the best quality and innovative dog apparel.

Product Details:
* Adjustable by 1 1/2" in either direction
* Custom, made-to-order to fit YOUR dog perfectly
* Mesh underlay design is great breathable material to help reduce sweating/wetness
* Built-in D-Ring for easy hook up and go for your leash
* East to put on and take off
* No more choking. All pressure goes to chest area.
* Washable and dryable


** Handmade in the U.S.A. **

Please allow 15 business days to make your custom-made designer fabric harness. If you need your custom item(s) faster, they can be RUSHED. These orders are placed in front of the production line and ship within 3 business days. If interested, CLICK HERE TO ORDER

BE SURE TO MEASURE CAREFULLY. THERE IS A $10 ALTERATION FEE FOR HARNESSES RETURNED DUE TO INCORRECT MEASUREMENTS.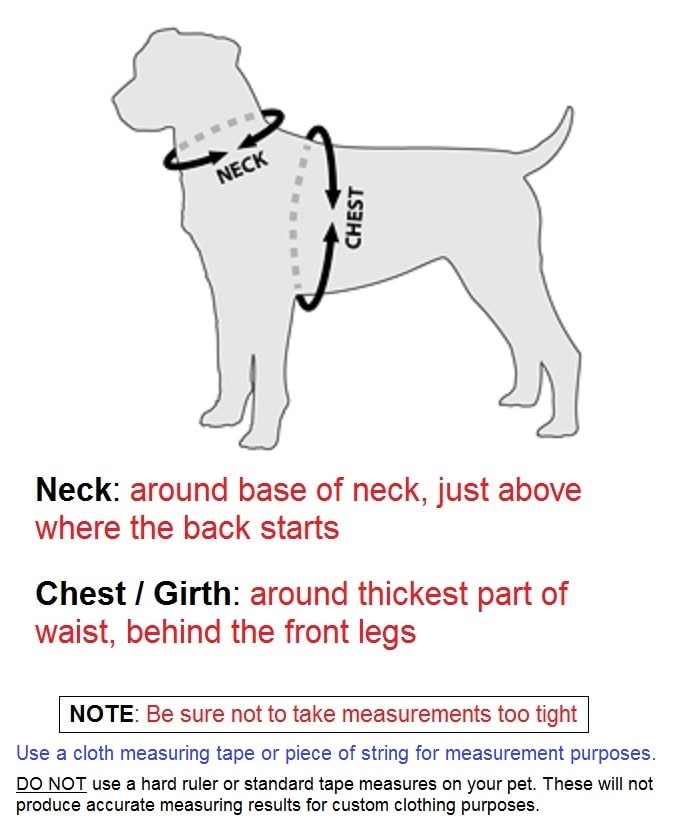 Product Videos
Custom Field
Product Reviews
This is what we have been looking for! Fits well, our Maggie loves it the best of all we tried. Great selection to fit our dogs needs.

Great product
Fits our overweight dog perfectly
Thank you

Love this harness. Great selection of fabrics to choose from and very well made.

This vest was everything I'd hoped for. It is secure and the dog cannot get out of it. The material I chose was just right for each dog and fit perfectly. Very well made product and worth the money for sure. I'm going to order more for the rest of the doggies.

I sent part one yesterday...today we tested the seatbelt addition to the harness...LOVE IT!! Absolutely best investment EVER ... Got to the vet and back with no issues...and SAFELY! Usually I depend on one of my neighbor's to go to hold Callie during the drive...neighbor is out of town...and so is my back up neighbor...this harness is AWESOME...Callie can not wiggle out during walks or in the car...LOVE IT!! Highly recommend...initially it seemed a bit pricey...however, product works and quality is excellent...it should last making it even more so worth every penny!

Callie is just one year old...I've bought 3 or 4 harnesses so far...to avoid the choking pull of a collar. Had to discard all (fortunately one I returned for refund). This is the first collar that she cannot wiggle out of AND I LOVE IT. I think she likes it too...almost a sense of security form fitting her girth. The real test comes tomorrow...my purchase has two purposes 1) walk and that is 100% satisfaction!! The 2nd test is tomorrow when we go to vet using the seat belt addition. I'm not real sure about the reflection strip...time will tell. She lets me put on and take off but the Velcro strip noise disturbs her...something we'll both get use too...after all, it's only day two! Great quality and service so far...stay tuned!

Designer Fabric Dog Harness

Absolutely love it, he looks adorable in it and it fits him to perfection! This is the 3rd one I have purchased between my puppy and my last dog. All of them have looked great on them and the quality and fit are perfect. I would highly recommend them. I do not like the plastic closures on store ones, they are a pain. This one you just slip it over their head and velcro it and you are good to go. So easy! Plus the fit is custom made to your own dog!

Best harnesses we've found. Excellent quality, handmade in USA and the only harness that fits our Doxies so they can't slip out of them. They don't mind wearing them either. Very easy on/off. Really cute colors and very reasonable delivery time.

Made for my Doxie, it fits perfectly and he like to wear them. We now have 3 he can wear depending on what his mood is or where we may be going. I may order more in the future.